One of the most important things for a review site owner is to provide useful and detailed information about a product to its readers. However, as a review site owner, you also need to focus on increasing your reach to a new audience; and a rich snippet can help you achieve this.
In case you didn't know, gaining a rich snippet is one of the best ways to improve visibility and higher clickthrough rates for your editorial reviews, and to accomplish this, Schema markup is the only way.
If not, take advantage of Rank Math PRO now and get huge traffic exposure by adding the pros and cons Schema that entices visitors to visit your website.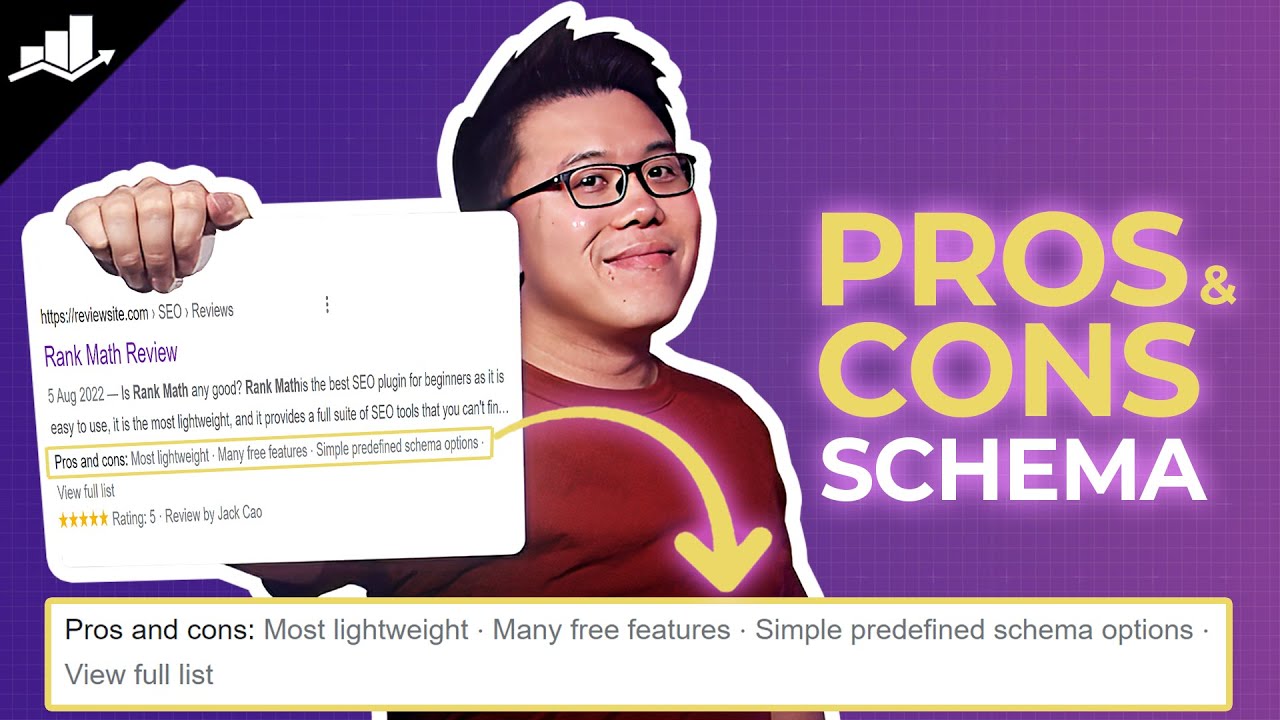 In this knowledgebase article, we'll show how to add the pros and cons Schema to your editorial review pages using Rank Math PRO.
1

What Is Pros and Cons Structured Data?

Pros and Cons of a product is a popular way to help readers decide whether to buy. As of now, Google added pros and cons structured data support for editorial reviews.

These snippets are eligible for the following languages:Dutch, English, French, German, Italian, Japanese, Polish, Portuguese, Spanish, and Turkish.

This structured data is for editorial product review pages only, not for user-generated reviews and merchant product reviews.
2

Why Should You Add the Pros and Cons Structured Data?

Adding pros and cons helps your editorial review pages with all the enhancements in SERPs and might rank higher in the long run.

As we know, rich snippets open up great opportunities to attract new readers for better search visibility, and the pros and cons information regarding a specific product always help the readers in their purchasing decision.

If you don't provide the pros and cons structured data, then Google might try to generate useful information automatically. However, priority is given to the pages that add the pros and cons structured data.
3

How to Add a Pros and Cons Schema

Before we begin, enable the Schema module by navigating to Rank Math SEO → Dashboard from your WordPress dashboard.
3.1

Edit Post

To add the pros and cons Schema to your post/page, navigate to Posts → All Posts from your WordPress dashboard, hover over the specific post, and click on the Edit option, as shown below.
3.2

Navigate to Rank Math's Schema Tab

Select the Rank Math SEO icon at the top of the post-editing screen.
In Rank Math's meta-box, click on the Schema tab. Next, click on the Schema Generator button to add the Schema type.
3.3

Choose the Schema Type

You can add the pros and cons structured data to the following type of articles:
We've chosen the Software Schema type as an example by clicking on Use.
For further information, refer to our dedicated KB article, Software Schema Type.
3.4

Add Pros and Cons

PRO

Add pros and cons lists and ensure to add one item per line. As per Google's guidelines, there must be at least two positive or negative statements, consisting of a minimum of two positive notes, two negative notes, or one of each positive and negative note.

Once done, click on Save for this Post. Then save the post as you normally do by clicking Publish for the newly created post or Update button to reflect the changes.
3.5

Check the Schema

Next, you can check the Schema using Google's Rich Results Testing Tool or click on the eye icon in Rank Math's Schema in Use, as shown below.
The Schema Builder screen will appear; click on the Test with Google to check the Schema.
And, in just a few clicks, you'll be redirected to Google's Rich Results Testing Tool, and you can test whether the Schema was added correctly.
And that's it! We hope you've understood how you can add the pros and cons Schema to your product review pages easily. If you still have questions, feel free to contact our support team; we're always here to help.