Talented SEOs all over the world are now using FAQ Schema to their advantage because it's proven to be extremely effective.
Have you ever wondered how you can use FAQs to increase your click-through rate and drive more organic traffic? 📈
Well, you've come to the right place – because, in this post, we're going to dive deep, look at why this matters, and how you can get started…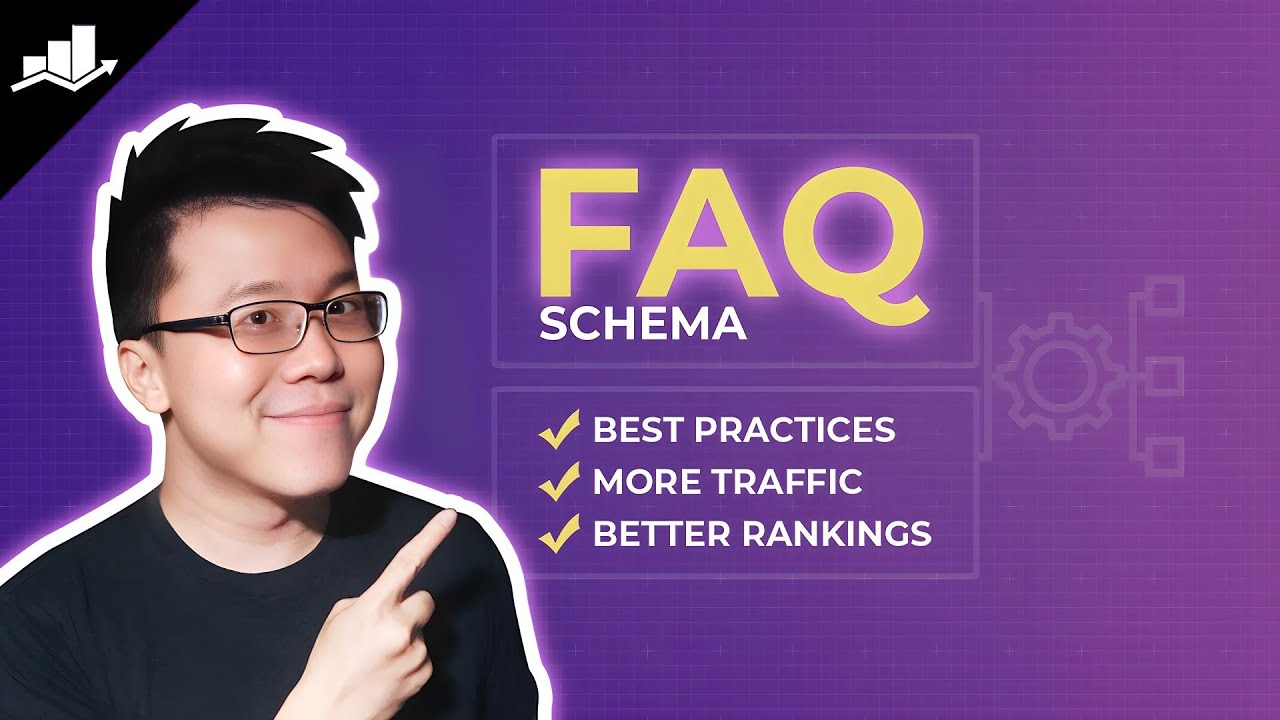 1

What is FAQ Schema Markup?

An FAQ page (a frequently asked questions page) is a page that contains a list of questions and their respective answers with regard to a particular topic. When such pages are properly marked up, they may be eligible to appear as a "rich result" (otherwise known as a rich snippet) in Search as well as be used by Google Assistant.

As per Google's guidelines, only reputable government and health websites will display FAQ-rich results. This rich result will no longer be displayed frequently for all other websites. Although there is no need to remove the FAQ Schema proactively, you can drop this structured data from your site.

Here's an example of what an FAQ rich snippet may look like:
Now that you know what FAQPage Schema is, let's dive deeper into how this is useful to you and what the benefits of using structured data actually are.
2

The Benefits of Adding FAQ Schema

Winning FAQ rich snippets is beneficial as it helps increase the overall visibility of your website since it occupies additional space in search engine results pages and provides users with a method of interaction.

But that's just the beginning, here are the other benefits:
Increased visibility – more content is shown to searchers from a single site (potentially yours) and links are inserted to relevant answers to commonly asked questions.
Eligibility for Voice Search Actions – Making use of FAQPage Schema can also make your site eligible for an action that is made available in the Google Assistant. This can potentially help your site be the source of answers for people using voice search to ask questions.
FAQ Schema is particularly helpful for articles that are ranking on the first page, but not the first three positions.
By design – a page eligible for the FAQ rich results gets additional space below the regular search snippet in the form of FAQ tabs added using in-page markup. As you'd expect, the additional space in Google search results tends to equate to more clicks to your site, consequently a better click-through rate.
3

How Do I Add FAQ Schema in WordPress?

So, now that we know why structured data is important – let's answer the next burning question: how can people like me and you make use of this?
3.1

Install Rank Math
Once you've logged into your WordPress website, hover over the plugins menu and proceed to click Add New. This will take you to the page where you can install new plugins – now, search for Rank Math.
And then you'll see the following – so, as you might've guessed, click Install Now.
Once you've installed Rank Math, you'll be greeted by the setup wizard which we've designed to make it as easy as possible to fine-tune your site's settings. However, if you're already using some other SEO plugin on your site, migrating all of the existing options is extremely easy.
If you'd like a more in-depth explanation of how to set up and migrate to Rank Math, we recommend reading our getting started guide here.
3.2

Add an FAQ Using the WordPress Block Editor

Now that you've installed and activated Rank Math, adding an FAQ Block using the WordPress Gutenberg Block editor couldn't be easier.

While writing a post or editing a page, simply click the plus icon that is present on the right of the content area to add a block.
Clicking this will allow you to select from a list of available blocks that will depend on the plugins installed on your site. If you've installed Rank Math, you'll be able to choose the FAQ Block.
Now that you've inserted the block, this is what you'll see:
As expected, initially and most importantly, you'll be able to easily insert the question text and the answer content to that question respectively as well as an image.
Rank Math's Content AI tool offers a convenient way to add frequently asked questions (FAQs) to your website. Click on the AI icon in the FAQ block, and let Content AI generate the answers for you.
In addition to this, there is also a range of block options available to you, such as the ability to change the list style, title wrapper, image sizing, and more…
Once you've added the questions, it is even easier to rearrange them, with the up and down buttons (available only in Rank Math PRO), to make your FAQPage look more coherent.
Unlike other plugins that have made attempts to implement FAQ Blocks, with Rank Math you thankfully aren't limited to just one block per page, you can add as many as your content requires (or heart desires 😉).
You can learn about how to use the FAQ Block by Rank Math in more detail on our Knowledge Base.
3.3

Adding FAQ Schema Using the WordPress Classic Editor

If you prefer to use the Classic Editor, it is important to note that the process of adding FAQ Schema will be slightly different. You can use Rank Math PRO's Advanced Schema Generator to generate a custom Schema and add it to any page in just a few clicks.
For individual posts or pages, you can either select the FAQ Schema markup type from the available options and then simply fill in each of the required fields – here's how:
Open the single post editor & scroll down to Rank Math's meta box
Navigate to the Schema tab as shown above.
Choose the Schema types that you want to add to your post & fill out any of the fields Rank Math's Schema Generator prompts you to complete.
And, that's it!
Further Rank Math makes it extremely easy to display the FAQ on frontend with shortcodes. The Schema Generator gives you a unique shortcode for each FAQ schema you create, and you can use the shortcode anywhere to display your Frequently Asked Questions.
Learn more about how easy Rank Math makes it to add Schema Markup to your website here.
Using the built-in Schema Generator, you can also add multiple Schema types to a page – and this is still very easy – as easy as dropping in the URL of another page (perhaps a competitor's) that uses certain structured data on their pages and then proceeding to change all of the field's values to match the contents of your page.
When adding multiple Schema types you'll be able to select the one you wish to be considered as the primary Schema type (as has been done for Article Schema in the example above).
Note: It is important to note that you must show all of your Frequently Asked Questions visible in Schema code on the frontend as this is one of the requirements Google has outlined you must abide by if you wish to be eligible for rich snippets as a result of marking up your webpage. Learn more about the guidelines here.
3.4

Adding FAQ Schema to Non-WordPress Websites

If your site isn't powered by WordPress – using Saijo George's JSON-LD FAQ Schema Generator, you can manually generate the markup required as shown below. Then, simply click the Copy FAQ Schema button to copy the generated code. And then paste this generated code into your site's HTML.

The limitation with this method is that adding FAQ Schema (or any other Schema Markup) for that matter is time-consuming and tedious, which is why we'd recommend making arrangements to switch to WordPress Rank Math. Is that you are limited to adding the FAQ section just once, we personally recommend that you make the necessary plans and arrangements to switch to the Block Editor.

It is also important to note that if you use this method, you not only have to add the JSON-LD markup, as shown above, but you also need to add the exact same questions and answers to the webpage's visual HTML as well since Google requires all FAQs to be visible to the visitors as well.
4

Validating FAQ Schema

Mistakes or slight discrepancies will likely result in your site not winning the rich snippet you're aiming for. It is important to ensure that the structured data you added is correct.

Using a plugin like Rank Math significantly reduces the likelihood of this happening since it takes the guesswork out of the process. That being said, validating the Schema is still important – so, here's how:
Schema Markup Validator
With the Schema Markup Validator Tool, there are two ways to test a page. You can either paste in the URL of the page that you would like to test, or you can head to the webpage, right-click in Google Chrome and click View Page Source and then copy the code.
In this case, we've used the FETCH URL method by pasting in a URL as shown above and then clicking RUN TEST. Shortly after clicking "run test", if you entered a valid URL, you'll be greeted by a page much like the one shown below:
In the above case, you can see an example of what the results of the test would look like if there is FAQPage Schema present on the page with zero errors and zero warnings – as shown more closely below:
Google's Rich Results Testing Tool
You can run the FAQ page through the Rich Results Testing tool to see the types of Schema your post is eligible for.
5

Notify Google to Crawl It

Next, since you've gone through all of this effort – you'll want to make sure that Google actually picks up the changes.

Once you've validated the FAQ schema of your page, head to the Google Search Console.

Then, enter your URL as shown below to inspect it.
This will then take you to a page that looks like this. Evidently, it will vary based on the state of the page and whether or not the URL is already in Google's index. Regardless, once you've added your FAQ schema, click Request Indexing as highlighted below:
This will ping Google to update and recognize changes made to your page, or if it isn't already in the index, it will signal to Google that – if possible – the page should be queued for indexing.
If your posts or pages with FAQ Schema also contain LiveStreaming or JobPosting markup, you should consider using Google's Indexing API to speed this process up.
Once Google starts to feature rich results for your FAQs, you can monitor its Performance under the Search Appearance section, perhaps, you can dive deep into which FAQs are driving more clicks/impressions and take action to optimize them accordingly.
6

Finding Questions for FAQ Schema

Now that we've gone through the technicalities of the process and how you can use the Rank Math plugin to make it even easier, let's take a look at how to actually find questions you can use in your content.

There are a number of ways you can do this – we'll take a look at our favorites and the ones we consider the best:
6.1

Google Autocomplete & People Also Ask Section
Google's People Also Ask section is as close to the source of information as we could possibly get. This is an area that Google uses to suggest things that people commonly also ask after searching for a specific search term.
When present in the search engine results page for the keyword you're trying to rank for, this is the best way to find out how to craft your content and make it as helpful to readers as possible.
Similarly, autocomplete in search can be used to find questions, as shown below.
To find the best type of questions, depending on the keyword you're targeting, using different question modifiers such as "how, what, when, why, where, who, which, will, are" will help you find more suitable questions…
6.2
Quora
An alternative to using Google's search functionality and related questions directly is browsing Quora.
If we continue with the WordPress example, you'll see that when we search for the keyword, we're met by questions that people have posted.
Using the questions here, we'd recommend focusing on the more popular ones (i.e. the ones with more answers and views) since those are more commonly asked and searched for and then you can work your way through other questions that would make sense addressing in your content.
6.3
Answer The Public
The next one in our list is Answer The Public. Similarly, entering a keyword such as WordPress which we used in the above two examples, you'll be presented with 100s of questions suitable for your content.
6.4
Internal Site Search
If your site allows visitors to search for content, and you have Google Analytics installed, you may be able to find suitable questions by using the method described in this post by Ahrefs on how to find keyword opportunities from site search.
6.5

Sistrix Keyword Tool
And last but not the least is Sistrix Keyword Tool. Similar to the other tools, choosing the language and entering a keyword like WordPress, presents a whole bunch of real world user questions, classified on the basis of user intent.
7

FAQ Schema – Best Practices & Tips
7.1

FAQ Schema Invalid Use Cases
A forum where answers consist of user-generated content all of which answer a single question. (we recommend using Q&A Page Schema instead)
Any page where users can submit multiple answers to a single question.
Making use of an FAQ Page for advertising purposes.
Truncating questions and answers so that they cannot be displayed in full (i.e. display full text of the question).
Usage with FAQs where either questions or answers contain anything that may be construed as sexually explicit, graphically violent, dangerous or illegal content and so forth.
The questions themselves aren't visible to the user on the source page.
Google themselves also advise websites that have FAQ content that is repetitive (i.e. the exact same questions and answers appear on multiple pages on your website), to mark up a single instance of that FAQ for your entire website.
7.2

FAQ Schema Valid Use Cases
A Frequently Asked Questions page that was written by an author that does not allow for users to submit their own answers.
A product support page that lists commonly asked questions and their exact answers (also while not allowing users to submit their own answers).
FAQs that follow Google's FAQ content guidelines.
7.3

FAQPage Schema Best Practices

While you can add any number of FAQs to your page, Google will only feature a maximum of 2 FAQs as rich results for each search result. But still, you would maximize the amount of real estate, space that your website visually occupies in the search engine results page as this would, therefore, increase the likelihood of getting searchers to click-through to your website.

Adding relevant internal links to your answers is highly recommended as they will be clickable from within the rich snippet. This can be a clever internal linking strategy since the FAQPage Schema may not result in capturing a click if the rich snippet answers a searcher's question immediately, but if you link to a relevant page that they may be interested in, they are more likely to click-through to your site to learn more.

This technique should only be used within reason. All links to other pages in answer text should actually provide value to searchers and must also be added to the content on the page. As mentioned earlier, the visible content on the page must match the Schema code exactly.
Only add relevant FAQs.
Keep it simple, short and accurate: for the best results, answers to FAQs tend to fall in the range of 160-200 characters.
Answers must fully answer questions and try to answer the question fully as early on as possible (i.e. No … [explanation]).
Write FAQs to convince users to click links (only when relevant, not in a spammy way).
Always follow Google's guidelines.
Recommended: Writing The Perfect Answers to Frequently Asked Questions
8

Frequently Asked Questions
Which Structured Data Format is Better? (JSON-LD vs Microdata)
When John Mueller – Webmaster Trends Analyst at Google – was asked what type of Schema markup Google prefers, he answered stating, "We currently prefer JSON-LD Markup. I think most of the new structured data that are kind of come out for JSON-LD first. So that's what we prefer."
Which Schema Type is Better – FAQ or Q&A?
FAQ and Q&A Schema are two different types of structured data – both of which can be used to get rich results for your pages. However, they do have slightly different use cases.
If you have a page where multiple users can submit alternative answers to questions (such as a forum) then you would use Q&A Schema.
However, if you have a page with questions and specific answers to those questions all around the same topic, it would make sense to use FAQ Schema (as you might've guessed, this page uses FAQ Schema).
Will Schema Get Me to Rank for People Also Ask And Features Snippets?
Will Structured Data Make My Site Accessible to Voice Search?
Structured data, specifically FAQ Schema are extremely helpful in making your site more accessible to voice search. It is not only a good SEO practice overall but it actually helps Google feature elements of your content in various places of search as well as voice search. This is because, currently, the majority of answers to questions made using voice search are taken from featured snippets.
What is FAQPage Schema?
FAQPage Schema is structured data/markup that indicates to Google that the page has a section with Frequently Asked Questions (FAQs) and the respective answers to the questions.
How Can I Get FAQ Rich Results in Google?
To win FAQ rich snippets for your website, you'll need to add FAQPage Schema to your site which is extremely easy to do as described in this detailed guide.
Will Emojis and HTML Tags Work With FAQPage Schema?
Yes, Google officially states that they accept HTML tags and emojis, as well as other Unicode characters, seem to be accepted.
Do FAQ Snippets Work on Mobile and Desktop?
Yes, FAQs appear in Google Search on both desktop and mobile devices.
What is the Risk Involved With FAQ Schema?
It is important to note that when implementing Schema, you may end up creating a situation where searchers get the answers they need from within the search results and never end up clicking through to your website. Obviously, this would be less-than-ideal and is something that should be considered.
I'm Ranking #2 – Where Are My FAQs?
There are a number of reasons your site may not be eligible for the FAQ rich snippet. Most notably, due to the increased usage, Google has now decided to filter out results when it considers the query match to not be relevant to the content on your page if you are, in some way, breaching the guidelines for the implementation (i.e. your content is too promotional).
There may also be a technical issue with your implementation which is why it is extremely important to use Google's Rich Results Testing Tool and Structured Data Testing Tool to double-check.
And last, but certainly not least, your FAQs also won't show up if the data that you've added as Schema is not visible on the page itself. If you want rich results for your page, you absolutely must have the same questions and answers displayed in the page content.
How Many FAQ Rich Results Can Appear in the SERP at the Same Time?
Currently, only two FAQ rich results are displayed at any given time on a single search engine results page (SERP).
Can FAQ Markup Be Added to Non-FAQ Pages Like My Homepage?
Technically, no. While you can add the markup to your homepage, you will not earn FAQ rich results for your homepage so we wouldn't recommend taking the time to do so. This is evidently quite unfortunate for single-page applications…
In addition to this, you also are extremely unlikely to earn the FAQ rich result in combination with other snippets such as the review snippet. Although, this would be nice.
Should I Markup the Entire Question and Answer, Even if It's Really Long?
Google officially suggests that the structured data markup wholly includes the entire text of each question and answer. However, some webmasters have reported that for extremely long-form answers, they chose to limit their answers to the most important information and found during testing that it still works.
Can I Use FAQ Schema for FAQ Pages That Link Out to Separate Pages for Each Question?
No, this simply wouldn't work. All of the questions (and their respective answers) must be listed on the page that contains the structured data. This means that the content itself must actually present in the page's HTML so it is visible by users and can also be rendered by search engines.
Can I Use FAQ Schema with Other Schema Types?
Yes, you can — when you use FAQ Block/Schema with other Schema types, Rank Math will automatically nest the Schemas to abide by the structured data guidelines. Since Google can combine certain rich results, using multiple Schemas on a single page can help you maximize the visibility in search results.
Can I Make the FAQ Schema Speakable?
As per Schema.org's documentation, the Speakable Schema is expected to be used only on Article and WebPage Schemas. So Rank Math will not make the FAQ Schema speakable as the Speakable Schema is only applicable for said schema types.
We suggest adding the FAQ page via blocks and Article Schema for the single post type where you can add the Speakable Schema. Also, note that the Speakable Schema feature is only available in our PRO version.
9

Summary: Take Advantage of FAQ Schema to Drive Organic Traffic

Making effective use of FAQ structured data can help increase the visibility of your website. And, especially with the help of the Rank Math WordPress plugin, it's something that's both simple & easy to implement across all of your WordPress websites today.

It is worth noting that there is some debate surrounding the use of structured data markup and rich snippets. Earlier in the article, we mentioned how providing too much information in your answers can inevitably result in the dreaded "no-click" searches. Simply because searchers find the information they're looking for on the search engine results pages without even visiting your page.

However, we definitely still recommend testing out and using the FAQPage Schema, because the reality is that if you don't, one of your competitors likely will, as a result of which, you'll just end up not ranking, not answering the searcher's question and not getting them to visit your site anyway.

So, if you do aim to earn rich snippets, we encourage you to proceed to use the Google Search Console Performance report to compare the average click-through rate with vs. without the rich snippet present.

Have any other questions about FAQPage Schema or want to join the conversation? Tweet @rankmathseo. 💬