When Elegant Themes first launched Divi – they really set the stage as one of (if not the) very first visual page builder that lets you edit your content as you see it.
And it's really no surprise that website owners across the world still love using it to build sites.
Divi is great at what it was built for, building beautiful websites visually.
But, let's face it – the SEO & content workflow isn't quite as intuitive as it could be. The same can't be said about how page builders can decouple your workflow. If you use any of the wide range of SEO plugins available, you'd typically only be able to adjust the SEO settings for a post or page by jumping between multiple browser tabs.
This disconnect disjoints the experience and makes SEO (an important part of the web design process) more time-consuming and tedious than it needs to be. And that's why we're proud to announce that the Rank Math WordPress SEO plugin is here to the rescue as the first plugin to fully integrate with Divi for an unmatched WordPress SEO experience!
Gone are the days of having to refresh the default WordPress editing screen to know if the changes you're making using the visual editor are in line with your SEO plugin's recommendations and settings.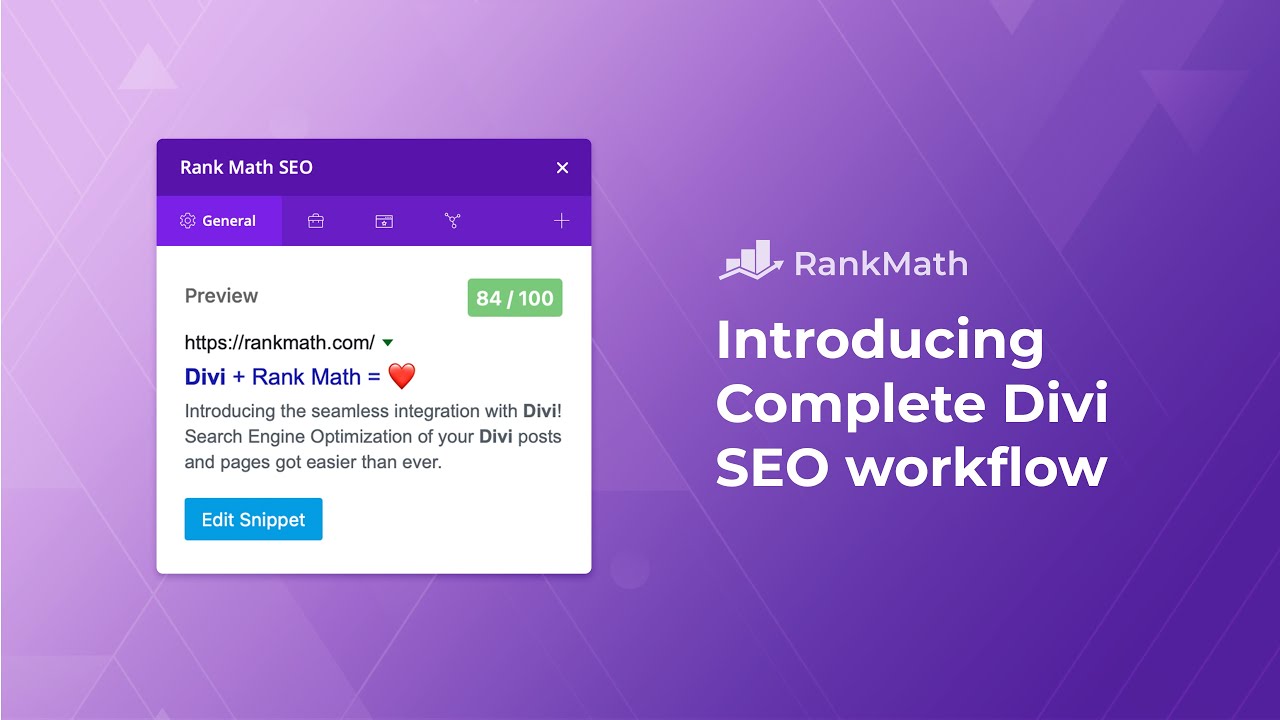 With Rank Math, all without ever leaving Divi's visual editing experience – you can:
Set custom meta title and descriptions
Select and configure Schema Markup (structured data)
Set custom canonical URLs
Customize how your content will look when shared on social networks using OpenGraph meta
No-index specific posts/pages
and more…
Getting Started With Rank Math
If you want to use Rank Math to make optimizing your Divi posts and pages easier than ever – you'll be pleased to hear that getting started is super simple. Even if you're already using another SEO plugin, migrate over in just a few clicks – here's how:
Install & activate Rank Math from the WordPress plugin repository
Ensure the Divi theme/Page Builder is installed & activated
Migrate from your other SEO plugin using our 1-click migration wizard (supports instant migrations from (Yoast SEO & Yoast SEO Premium, All in One SEO, SEOPress & SEOPress Pro).
Say goodbye to switching tabs constantly, just click edit with Divi and start optimizing…
1

SEO Optimization Settings Directly in Divi
When installed with the help of Rank Math – you'll be able to take advantage of SEO options built natively into Divi in what feels like a truly native experience. And, Rank Math is the only WordPress SEO plugin to solve this problem and streamline the experience by building a tight integration with the Divi page builder.
Ditch the jumping back and forth…
And, to take advantage of this functionality – there's nothing extra to install or configure. As long as you have the Divi WordPress theme installed as well as Rank Math, you'll see all of the extra options when you proceed to edit a page with Divi. Meaning that this is where you'll be able to find, access as well as modify all of the settings that are available in Rank Math in the Gutenberg sidebar or using Rank Math's Meta Box (in the Classic WordPress editor).
2

Add a Custom Meta Title & Description
Now that you have Rank Math installed, although the possibilities with Divi are almost endless when it comes to visual design – setting custom meta titles and descriptions now couldn't be easier all without leaving the visual page builder you already use and love.
To pull up your post or page's SEO settings, simply click on the Rank Math SEO icon as shown below:
And that'll pull up all of your settings conveniently, similar to Divi's native settings – where you can change your post's title, description as well as the permalink all without having to jump to another edit tab.
3

Set the Default Title and Description for Social Sharing

In the same overlay, if you navigate to the social tab – in addition to the custom meta title and description you've set for search engines, you'll be able to customize the way your Divi posts and pages appear on social networks (including Facebook, Twitter and more).
As you can see, you'll see a preview of what the post is going to look like, which can also be a perfect reminder to use an engaging featured image as well as ensure that the length of your headline won't result in it being cut off because it's too long…
4

Use Rank Math's SEO & Content Optimization Hints

If you've used Rank Math (or as you may recall from other SEO plugins) – in Gutenberg, Elementor, and the Classic WordPress Editor, it conveniently provides contextual SEO & content optimization suggestions or hints.

These make it extremely easy to follow best practices when working with page builders – we're proud to announce that we're also bringing this functionality to every Divi users' fingertips.

Rank Math is now capable of analyzing all of the content in posts and pages that use the Divi visual page builder including text, heading blocks, and more – for truly accurate suggestions built-in.
5

Add Structured Data (Schema Markup) to Your Posts And Pages

And of course, Rank Math's Advanced Schema Markup options are now also available right in Divi:
This means you can now choose and take advantage of over 14 different types of Schema Markup to configure them for the page that you're working on with Divi (all without ever leaving the visual editor or dealing with annoying custom code). If you're interested in learning more – refer to our comprehensive guide in which we cover how you can use Schema Markup & structured data to change the way your site appears in search engine results pages & drive more traffic.
6

Add FAQ Schema to the Accordion

PRO
We all know by now how important Schema Markup is in helping search engines understand your website's content and, in turn, drive more traffic to your site. So, with our integration with Divi we've taken things a step further to make it even easier for you – when using Divi to insert frequently asked questions using their accordion widget, you can now automatically add FAQ Schema to the accordion widget to be eligible to earn FAQ Snippets in search engine results pages.
As is always recommended when making changes to your site's structured data, you can then test the structured data using Google's Rich Results Testing Tool.
7

Add Breadcrumbs to Your Divi Site With Rank Math

First, to go WordPress Dashboard → Rank Math SEO → General Settings → Breadcrumbs and enable the Enable Breadcrumbs function and Save your changes. We have a guide on how to use the Breadcrumbs settings.
And, that's it – then simply drop the below shortcode anywhere you want in Divi.
[rank_math_breadcrumb]
It'll display breadcrumbs for the current page you've added it to, like the one below:
Summary – Divi & Rank Math = The Ultimate SEO Workflow
There's a reason Divi is so popular among the WordPress & SEO community and that's because it makes building websites easy. So why not top it all of with Rank Math?
Install Rank Math today so your SEO options are never more than a click away in Divi. It's about time to ditch the endless back & forth and bring all of your options under one roof with Rank Math.
Have a question about Rank Math or how it works with Divi? Tweet @rankmathseo 💬
Divi SEO – Frequently Asked Questions
Is Divi Good For SEO?
Divi is simply a page builder – in isolation, yes it lets you build SEO-friendly websites however, of course, these can be further improved with the help of following best practices as optimization (such as with the help of Rank Math).
What is the best SEO plugin for WordPress & Divi?
The real question here is which SEO plugin works best with Divi, and the answer is simple – Rank Math – we're the only SEO plugin that natively integrates with Divi, without anything extra to install or configure to get started.