Rank Math plugin includes the options to import your redirects from Yoast SEO Premium, .csv files and other redirection plugins, making the entire process very simple.
In this knowledgebase article, we'll show you the various options available to import redirections using the Rank Math plugin.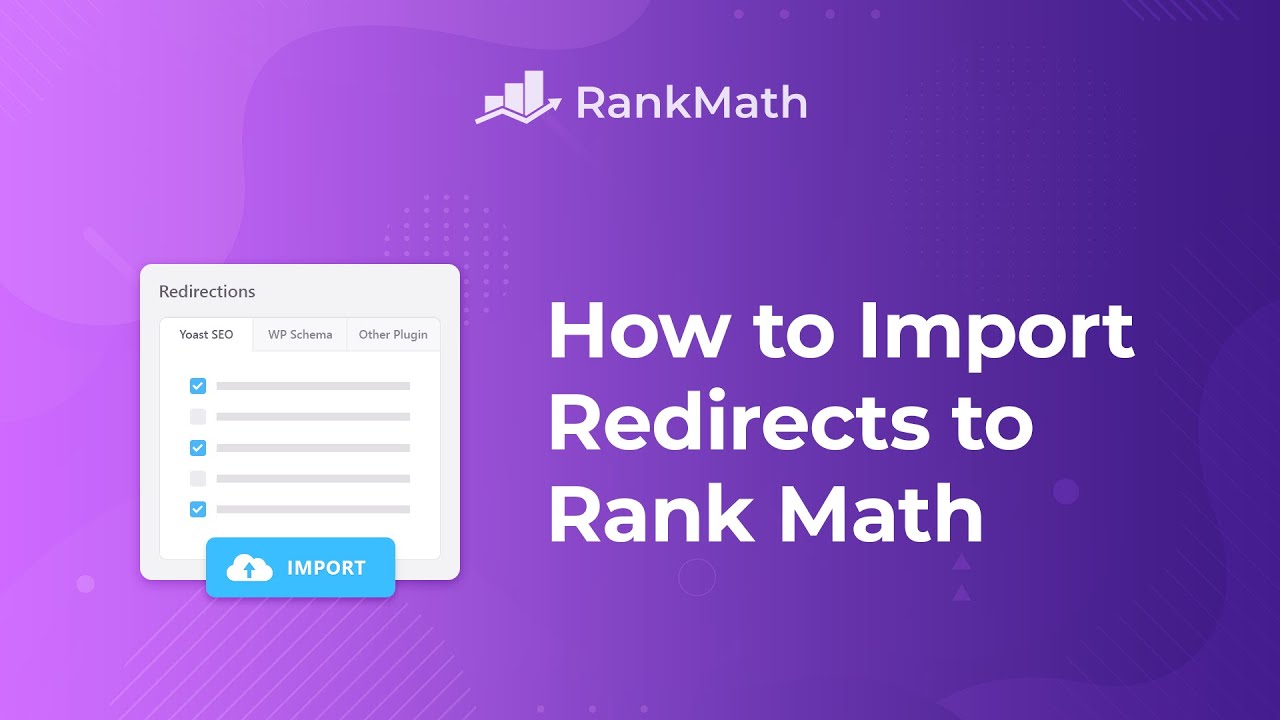 Table of Contents
1

Import from Yoast SEO Premium

Rank Math makes it easier for you to import the settings and data from Yoast SEO Premium. To get started, head over to Rank Math > Status & Tools > Import & Export inside the WordPress admin area.

As you scroll down a bit, you can find all the settings that Rank Math can import from the Yoast SEO Premium plugin under the Other Plugins section, as shown below.
Make sure that the Import Redirections option is selected and then click the Import button. Now all your redirections from the Yoast SEO Premium plugin will be imported to Rank Math.
2

Import from Redirection Plugin

You can import your data or settings from the Redirection plugin with the help of the Import Redirections option that is available in Rank Math. To import redirections, navigate to WordPress Dashboard > Rank Math > Status & Tools > Import & Export.

Scroll down to find the Other Plugins section and click the Redirections tab. Choose the Import Redirections option if it isn't already selected.
And click on the Import button. All your redirections from the Redirection plugin will be imported within a couple of minutes.
3

Bulk Import Using Redirections Manager

Rank Math also lets you bulk import URLs when you create a redirection with the Redirections Manager inside Rank Math. This bulk import method is useful when you've multiple source URLs to be redirected to a single destination URL.

To create a new redirection, navigate to Rank Math > Redirections inside your WordPress admin area and then click the Add New button.
Now copy the list of URLs you want to be added to the Source URLs with each URL in a new line. For example, consider the following list of URL slugs to be added to the Source URLs:
/myblog/
/my-blog/
/old-blog/
This entire list can be copied and pasted on the Source URLs field either with:
Right-click on the screen and choose Paste option,
Or use the keyboard shortcut (Ctrl+V in Windows and Cmd+V in Mac).
Now, as soon as you paste, each URL will be added in a new row as shown below.
In this way, you don't have to copy and paste each URL manually — copy the URLs in bulk and paste in one go.
Now you can add the Destination URL and click Add Redirection button to create your redirection. Rank Math's redirection features are extensive, and hence we have got a detailed guide to help you explore the various available options and configure your redirection.
4

Import from a CSV File

PRO

You can import a CSV file to create or update the redirections. This option is available in the Rank Math PRO version.

To get started, navigate to Rank Math > Redirections > Import & Export tab.
To create a CSV file, you can follow the details provided in the help menu. You can access it by clicking the Help menu at the top of your screen or click on the More Details option. The CSV file can include the following columns.
id
source
matching
destination
type
category
status
The columns can be arranged in any order but the CSV file should have at least a source and destination column for a redirection to be created. You can also refer to our detailed knowledgebase article on creating and editing redirects using CSV for more use-cases.
Once you've created the CSV file, you can select the file using Choose a File option and then import the redirections (either for updating the existing redirections or creating new redirections).
Once your file is selected, click on the Import CSV button. The import process will begin immediately, and your redirections will then be imported.
And, that's it! Migrating your redirects over to Rank Math's built-in redirections module couldn't be easier. If you'd like to learn more about Redirections, the type of redirects available & more – you can do so here…