Rank Math makes it easier than ever to write the perfect meta title and descriptions for both your blog posts, pages, and other custom post types. But as you might've already noticed & is becoming more common, Google (as well as other search engines) often choose not to simply use the meta description you've set.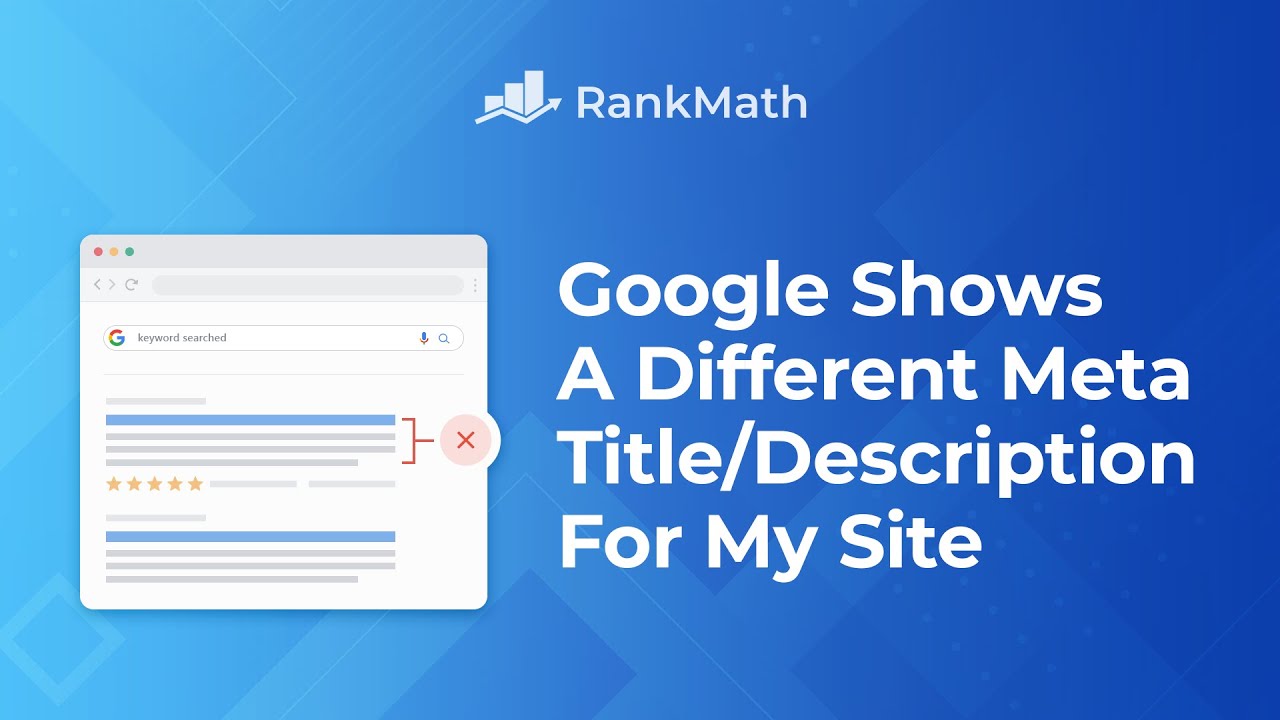 In this article, we'll cover why this might be the case & how to check:
1

Check What You Have Set Using Rank Math

To begin with, it's important to check that you've already changed the SEO Meta Title & Description with the help of the Rank Math WordPress SEO plugin. Here's how to do so if you're using the Classic Editor:
And, this is how you add a title and description in Gutenberg:
2

Ensure Your Schema Settings Are Valid

Next, make sure that the settings shown below (in Rank Math's Schema tab) for the post or page your referring to are as follows:
That is, the Headline and Description in the Schema Builder itself must show %seo_title% and the description should show %seo_description%. This will ensure that your SEO title and SEO Description that you have set up via Rank Math are also used for this page's structured data.
3

Check The Description Set In The Page's Source Code

Then proceed to check if your title/description has been set up properly in the page source. This can be done by right-clicking on your page and clicking View page source in the menu that appears.
As an alternative – instead of viewing your page source using the method described above, you can also use this online tool.
4

The Latest Version Of Your Page Hasn't Been Indexed

Now that you've confirmed that the meta description you have set is actually what is shown in your page's source, you can also proceed to check whether Google has picked up on the changes. To do so, please check when Google's cache was last updated for the page:
After clicking the small, downwards-pointing arrow next to the domain (on the right of rankmath.com above), you can click on Cached to view the following details:
If the cache date is from before adding the new meta description, then you just have to wait for Google to re-crawl and re-index the page with your now updated meta title and description.
Now that you've carried out all of those checks and can be sure that everything is fine – it is still possible for Google to choose to show a different meta title/description for your search keyword. There is nothing you can do as Google sometimes ignores the custom meta information altogether and show something from the page's content that matches the search intent better. Next, we'll cover why this might be the case…
Why Google Might Choose Not To Use Your Meta Description
At the end of the day, as you'll come to realize is the case in the industry – search engines choose what they display. Given that this process takes place automatically, behind-the-scenes at Google – there is little that we (or you) can do to ensure that Google does in fact use the meta description you've written.
That being said, here are some of the most common reasons Google might not use the meta description you've provided:
The meta description is not relevant or useful (ie, just a collection of keywords).
The exact same meta description is provided across a large number of pages.
The meta description doesn't match what the user is searching for, but other content on the page does.
Let's take a look at an example where Google dynamically changing the content depending on the search terms used by searchers.
Here the keyword used is "mythemeshop keyword research". As you'd expect, Google correctly shows MyThemeShop's keyword research guide as the first result.
Now, if we repeat this search with the terms "mythemeshop keyword research guide" – you'll notice that the title of the exact same page shown by Google has changed this time:
In the past, Google has also made various suggestions with regard to how to avoid meta description rewrites…
Still not using Rank Math?
Setup takes less than 5 minutes including the import from your old SEO Plugin!
Still need help?
Submit Your Question
Please give us the details, our support team will get back to you.
Open Ticket