Rank Math isn't really a dedicated keyword research tool. However, there are some basic options that we offer. With the help of these amazing options, you can optimize your website for more traffic easily.
Let's look at what Rank Math has to offer: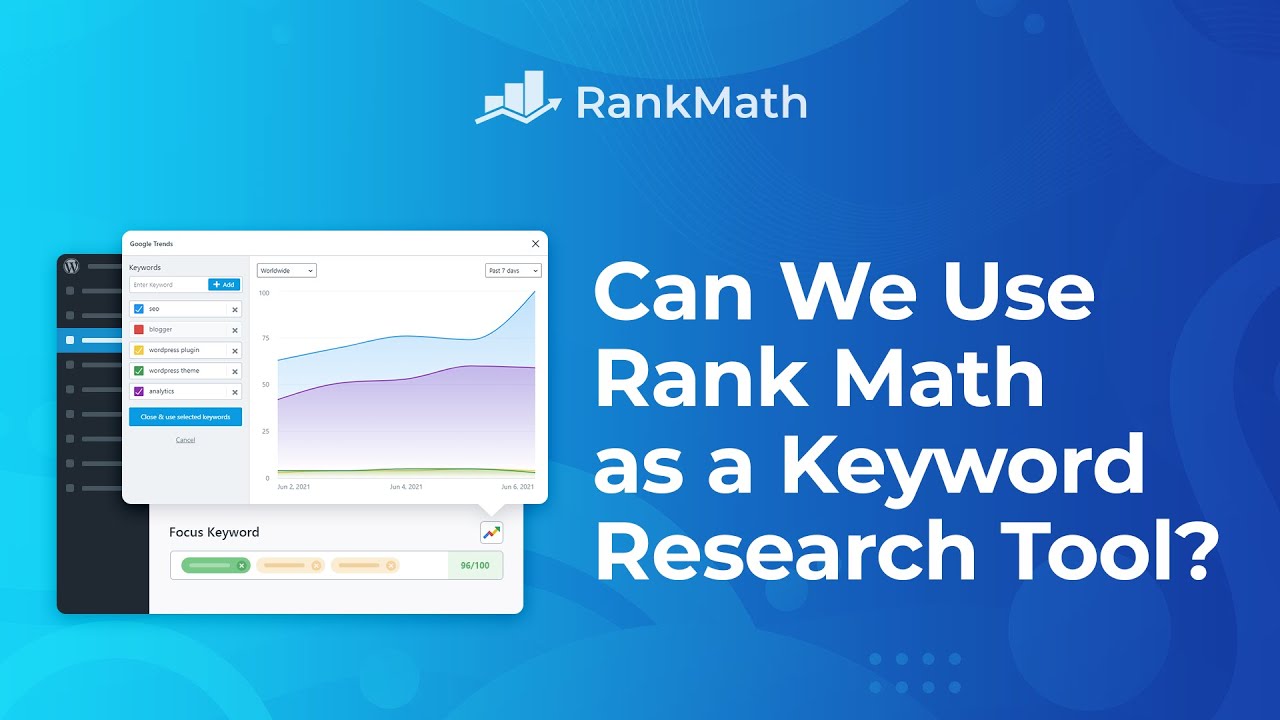 Table of Contents
1

Focus Keyword

The focus keyword is simply the search term that your post or page is optimized for in the search engines. If your post has been written so that it is optimized for that particular keyword, the audience will be more likely to locate it and find what they're looking for.

Rank Math allows you to select up to 5 focus keywords per post. This means you can optimize your post for 5 different keywords and attract a lot more traffic as compared to what you were optimizing for 1 focus keyword. This option is available in both the free and the PRO version of Rank Math. If you try to add more focus keywords, Rank Math would rather discard them. But, this limit is removed in Rank Math PRO allowing you to add unlimited focus keywords.
2

Keyword Autosuggest

Rank Math can also help you discover more keywords by pulling in automatic keyword suggestions from Google. As you start typing letters in the Focus Keyword field, Rank Math will get you keyword suggestions from Google. From the list of keyword suggestions, click the keyword to add it to the Focus Keyword field. You can repeat this for adding more focus keywords and optimizing your content accordingly.
Note: To enable Rank Math to provide you automatic keyword suggestions, you'll need to first connect your website with your Rank Math account. If you haven't already connected your website with Rank Math account, navigate to WordPress Dashboard → Rank Math SEO → Dashboard → Help and then click the Connect Now button.
3

Keyword Comparison & Google Trends Tool

PRO

Keyword research is extremely easy with Rank Math. There is no need for you to do guesswork in order to identify the potential keywords with each post. Rank Math's integration with the Google Trends tool(Rank Math PRO only) helps you check the search trends for keywords and even compare them.
With the help of the built-in graph comparison tool, you can compare the various keyword opportunities visually and can research which keyword you should be targeting.
4

Keyword Suggestion by Content AI

Rank Math's Content AI suggests the potential or important keywords that you could add to your content. The data will be fetched on the basis of your Focus Keyword. You can utilize this opportunity for ranking particular keywords that you've not used yet.

Note: You must enable the Content AI module from Rank Math's dashboard, in order to utilize its features.
This is how you can make use of the Rank Math plugin to nail down a keyword but you need to keep in mind that Rank Math is not a replacement for a dedicated keyword research tool. It simply makes your job easy with the help of its various features.
You can also read our Keyword Research guide to make the entire keyword research process easier. And last but certainly not least, if you haven't already, please refer to our setup guide to get started with Rank Math today & don't hesitate to reach out to our support team if you have any other questions…